Awareness and Transformation: Juneteenth and Critical Race Theory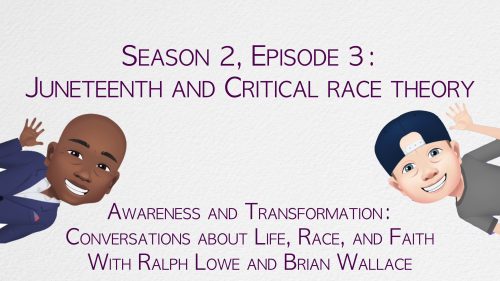 Season 2, Episode 3: What We Learned in 2020 (February 2021)
America celebrated two federal holidays within two weeks. The Fourth of July, a holiday for almost 250 years, and Juneteenth, one just celebrated for the first time this year. Juneteenth (June 19th) commemorates the emancipation of the last remaining enslaved Africans in the Confederacy after the Civil war. As we celebrate this complicated historical event, present-day outlooks are unfortunately mixed concerning the importance of educating youth about American history, specifically the enslavement of Africans. What should our response be as Christians? What role does Critical Race Theory play in the teaching of American history and why is it important? 
In response to the killing of George Floyd, staff members Ralph Lowe (Director of Justice Ministries) and Brian Wallace (Associate Minister) started a series of conversations entitled Awareness and Transformation: Conversations about Life, Race, and Faith.  You can view the episodes on YouTube and copies of the videos are available for download below use and inclusion in online worship and other church programs.
You can subscribe through FeedBurner or iTunes
Disclaimer from Ralph and Brian: "The views expressed in these episodes are our personal views and should not be understood, in any way, to constitute an official position or view of Pittsburgh Presbytery"
Access all the episodes on the Awareness & Transformation page!