North Branch
North Branch
Presbytery Liaison – Rev. Brian Wallace, Associate Minister
Includes all congregations north and east of US Rte. 19 (not truck route) and I-279 north of Allegheny River.  If you are unsure which branch a church is located in, you can check on our Presbytery Map.
---
Events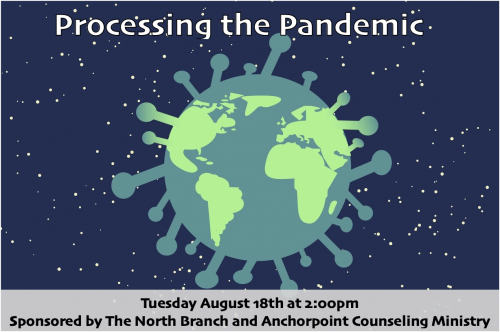 To say we are living in unprecedented times would be a vast understatement.  Between the economic uncertainty, social unrest, and global pandemic 2020 has been a year for the history books.  The events of this year are impacting everyone, including pastors and congregation members.  To better equip you as pastors to care for yourself and those in your congregation, the North Branch is partnering with Anchorpoint Counseling Ministry for an online webinar on August 18th at 2:00 pm.
Licensed and experienced counselors from Anchorpoint Counseling Ministry will discuss current needs related to stress, anxiety, grief/loss and fear while providing insights and perspectives on these urgent issues facing our communities and congregations. Join Rev. Dr. Ron Barnes, LSW, Jennifer Regester, LCSW, Danny Churchill, LSW, and Donna Goss, LPC as they share about maintaining spiritual health, staying connected and continuing to provide support through ministry during this unprecedented time. With a mission of building hope and promoting healing and learning, Anchorpoint has been providing spiritually integrated mental health services and educational support to local community members and families in the Pittsburgh region for more than 54 years.
The registration deadline for this event is Friday, August 14th.  You can register online.  Please contact Rev. Brian Wallace for more information.
---
Steering Team
Rev. Dr. Tyler Domske, Wexford Community Presbyterian Church
Rev. Diana Harbison, Pine Creek Presbyterian Church
Rev. Brian Wallace, Associate Minister, Pittsburgh Presbytery (ex officio)
---
Connecting